February 23, 2021
Eel River Bar First Nation
11 Main Street, Unit 201, Eel River Bar, NB E8C 1A1
Phone: (506) 684-6288 Fax: (506) 684-6283
JOB POSTING
Eel River Bar First Nation
 Animal Control Officer
Casual Part-time
Reports to: Katie Mulcahy
Hours of Work:  Days, Evenings, and Weekends and On-call
(Based on a 15 hrs./week)
Eel River Bar First Nation is currently seeking an individual to fill the part-time position of Ugpi'ganjig Animal Control Officer.  The successful candidate will be required to work days, night and weekends.  In addition, the candidate must be available to work on-call as required to respond to after hour emergencies.
The Ugpi'ganjig Animal Control Officer (UACO) will respond to calls of both an emergency and non-emergency nature in an effective, efficient and caring manner. UACO must be able to foster and maintain good public relations and customer service with the public and be able to communicate effectively in a variety of situations in relation to this position. UACO will be an energetic team player and not afraid of hard work and get things done. UACO cares deeply about animals and is passionate about their welfare. UACO will be an excellent communicator, have experience in conflict resolution and always present a professional demeanour.
Job Description: Adhering to the ERBFN Conditions of Employment Policies and maintaining Confidentiality at all times, the Ugpi'ganjig Animal Control Officer's responsibilities will include but not limited to:
Responsible for the daily duties: dog calls, public relations, inventory control, and maintaining call logs
Protect the welfare of all animals and the safety of the public and enforce all federal, provincial and bi-laws and regulations
Conduct animal control duties as required
Respond promptly to such other calls as may be directed by the supervisor
Respond to calls of both emergency and non-emergency nature in an effective, efficient and caring manner
Treat animals humanely, with compassion and concern, and in a manner consistent with the SPCA's Five Freedoms of animal welfare
Perform other duties as assigned
Minimum Education and Experience Requirements:
Completion of grade 12 or equivalent
Valid driver's license and Reliable transportation
Excellent driving record and no felony convictions

Applicants being considered for an interview MUST provide a current criminal record prior to interview.

Ability to communicate clearly and effectively both verbally and in writing.
Ability to lift at least 70 pounds and work outside in all types of weather.
Preference may be given to Eel River Bar First Nation Members.
Knowledge and understanding of the culture, history and traditions is an asset
Closing Date:  March 12, 2021 at 11:55 AM – We thank all applicants; however, only shortlisted candidates will be contacted.
Please make applications to the attention of by email or in person:
Email: Employment@eelriverbar.ca
Phone #: (506) 684-6288
(All applications must include Cover Letter, Resume and 3 References.)
Eel River Bar First Nation reserves the right to amend and/or withdraw the above posting for 2021 ACO.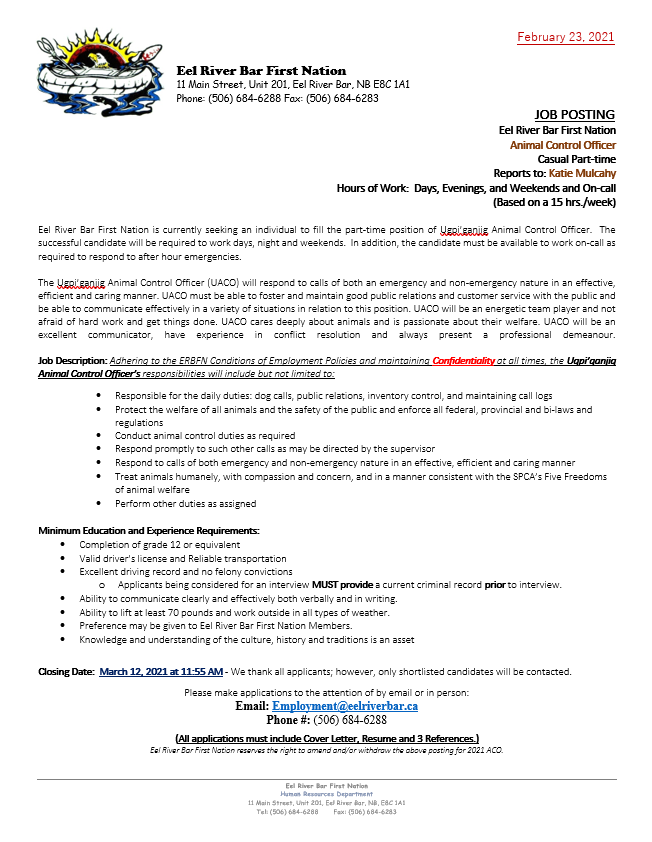 http://erb.cp312.zenu.tech/wp-content/uploads/2019/09/erbHomepage-1-300x75.png
0
0
Tyler Morrison
http://erb.cp312.zenu.tech/wp-content/uploads/2019/09/erbHomepage-1-300x75.png
Tyler Morrison
2021-02-23 14:42:30
2021-02-23 14:42:30
 Animal Control Officer